Robert Moog's 78th birthday celebrated in Google doodle
Music pioneer Robert Moog, who would have been 78 on Wednesday, has been celebrated with a Google Doodle
Bob Moog Google Doodle Plays The Synthesizer
Be careful. You could spend all your time over there.
Guardian staff
guardian.co.uk
, Wednesday 23 May 2012 01.47 BST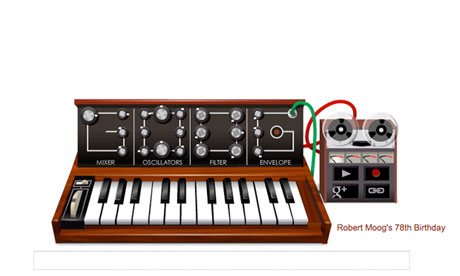 Robert Moog's Google Doodle
Google has marked the birthday of music pioneer Robert Moog by creating a 'Doodle' in the form of an interactive electronic synthesiser which can be played by clicking on its keys using a cursor.
Although musical synthesisers already existed, Moog transformed pop music during the 1960s by producing and marketing a small keyboard synth which could be used with relative ease.
Bands including the Beatles and the Doors used the Moog synthesiser, while others later became fans of the Minimoog, a stripped-down version which followed it in the 1970s.
The New Yorker, who would have turned 78 on Wednesday, had been encouraged to dabble in electronics from an early age by his father and built his first electronic instrument, a theremin, at the age of 14
The pair started their own company in 1954 to sell theremin kits by mail order. After studying at the Bronx High School of Science, Moog attended Queens College before graduating in electrical engineering at Columbia University and earning a doctorate in engineering physics at Cornell.
Of the Moog synthesiser, which appeared in 1964, the inventor was to later recall: "I didn't know what the hell I was doing. I was doing this thing to have a good time, then all of a sudden someone's saying to me, 'I'll take one of those and two of that.' That's how I got into business."
Moog died in 2005 at the age of 71, after being diagnosed with a brain tumour four months previously. However, the Moog sound has lived on, with musicians such as Fat Boy Slim choosing to continue to use it even in the digital era.
WEBpronews
There's a new Google Doodle honoring Robert "Bob" Moog getting ready to go live tomorrow. However, if you visit the Google Australia homepage, you can enjoy it now, seeing how it's already tomorrow down under. The same applies with Google Japan. What you'll find when you navigate there may indeed rival some of Google's most memorable Doodles, at least in terms of its cool factor and as a time-waster.
For those who may be unaware, Moog invented an analog synthesizer called, surprisingly enough, the Moog Synthesizer. To celebrate Moog's 78th birthday–you guessed it–Google took a page from the successful Les Paul Doodle and provided us with a playable Moog Synthesizer, which also doubles as the Google Logo, as seen in the lead image. Much like the recordable guitar that was the Les Paul Doodle, the Moog Synthesizer Doodle is capable of recording up to four tracks, which, according to 9to5Google.com, can be shared on Google+.
Aside from the recording feature, there are a number of sound effect options including mixers, oscillators, filters and envelopes. There's also a dial for pitch on the left side of the Doodle, and all of the effects are usable, giving the creative types tons of options to play with.
It should be noted that some in WebPro office were experiencing difficulty with getting the Moog Synthesizer Doodle to play. When some of my coworkers clicked the keyboard, they were taken to the search results page for Robert Moog instead of getting sound in return. Another coworker discovered that if you open the Les Paul Doodle in a separate window, you can play both Doodles at the same time, meaning we're just a working drum kit Doodle away from having a workable band that uses Google Doodles as instruments.
As indicated, the Moog Synthesizer Doodle will be live in the United States on May 23rd (tomorrow), but it is already live in Google Australia and Google Japan. Have fun wasting the rest of your day trying to hack out the opening part to Europe's "The Final Countdown."
3D car show
Today May 23, 2012 Google is celebrating the 78th Birthday of Robert Arthur "Bob" Moog the pioneer of modern music. The "Bob Moog" Google Doodle were created using HTML 5 and allows visitors to compose and play their own music using the "Bob Moog" Synthesizer (The Google version of it). If you would like to read more about Bob Moog we recommend the "Robert Moog Wikipedia" article and also the Wikipedia article on the "Bob Moog Synthesizer".
Who was Bob Moog?
The Short Version: Bob Moog was born in the USA on May 23, 1934 in New York. He completed most of his studies in New York at the Queens College, Columbia University, Cornell University, Polytechnic Institute of New York University and Lycoming College in Pennsylvania in the fields of Electrical Engineering and Engineering Physics. Bob Moog was highly educated and part of his education included honorary doctorates from the Polytechnic Institute of New York University and the Berklee College of Music. He spent the early 1990s as a research professor of music at the University of North Carolina at Asheville. Moog was diagnosed with a glioblastoma multiforme brain tumor on April 28, 2005. Nearly four months later, he died at the age of 71 in Asheville, North Carolina on August 21, 2005. The Bob Moog Foundation was created as a memorial, with the aim of continuing his life's work of developing electronic music.
The Bob Moog "Modular Synthesizer"
Bob Moog invented the Moog Synthesizer. The Moog Synthesizer were a small analog synthesizers designed by Dr. Robert Moog and manufactured by Moog Music. The Minimoog became the most popular monophonic synthesizer of the 1970s, and it was quickly taken up by leading rock and electronic music groups such as yes and Tangerine Dream. – If you are interested in the Moog Synthesizer you should visit the Wikipedia article about the Bob Moog Synthesizer.
Google recommends that you watch the Google Bob Moog Doodle with Google Chrome
On the Google homepage today, just below the Google Bob Moog Doodle there is a small statement saying that you should watch the Bob Moog Doodle with the Google Chrome browser. The Google Chrome browser is made by Google and offers a clean and robust web browser. The Google Chrome browser is one of the best HTML 5.0 supported browsers and brings out the best in HTML 5 designs. The Google Chrome browser extensively supports HTML 5.0 and JavaScript which makes these types of Google Doodles possible.
We have previewed the Google Bob Moog Google Doodle in Internet Explorer 9, Firefox and using the Google Chrome Browser, and we can confirm that the Google Bob Moog doodle is best viewed using the Chrome Browser.
You can download the Google Chrome browser on the Google Chrome page.