Happy birthday, Mark Twain
Mark Twain gets birthday tribute from Google
Pictorial homage to Tom Sawyer graces search engine on the author's 176th birthday
Wednesday 30 November marks the 176th birthday of the great American author. What's your favourite Twainism?
Open thread
guardian.co.uk
, Wednesday 30 November 2012 17.23 GMT
Mark Twain, born Samuel Langhorne Clemens, on 30 November 1835 – 176 years ago today. Photograph: Classic Image/Alamy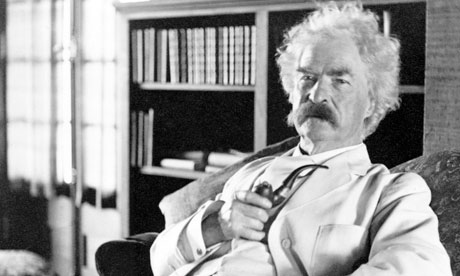 As Google has noted with one of its doodles, 30 November marks the 176th birthday of the great American author, satirist and wit. He was celebrated in his lifetime for novels such as The Adventures of Tom Sawyer and The Adventures of Huckleberry Finn, but if Twain himself is right that the definition of a "classic" is "a book which people praise and don't read", then it might be said that his epigrams are his most popular surviving work.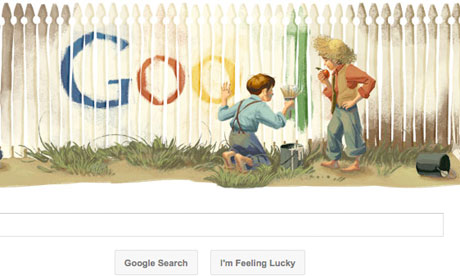 What is your favourite Twain aphorism?
Mark Twain's birthday doodle from Google.
Mark Twain's classic scene of boyhood one-upmanship, when Tom Sawyer tricks his friends into whitewashing a fence for him, has been immortalised online by Google's home page.
The search engine marked the 176th birthday of the American author with a Google doodle today, showing his character Tom Sawyer tempting a friend into whitewashing over the Google logo that unknown and anachronistic hands have daubed over it. In the novel The Adventures of Tom Sawyer, Tom is ordered to undertake the job by his Aunt Polly as a punishment. A "deep melancholy" settles upon him as he surveys the fence, "thirty yards of board fence nine feet high".
When boys begin to approach and ridicule him, Tom persuades them the work is fun. "All I know, is, it suits Tom Sawyer", he tells them. "I reckon there ain't one boy in a thousand, maybe two thousand, that can do it the way it's got to be done." They take the bait and bribe him with their treasures to let them whitewash the fence for him, as "the retired artist sat on a barrel in the shade close by … literally rolling in wealth".
Twain, born Samuel Clemens in 1835, published The Adventures of Tom Sawyer in 1876 and its sequel The Adventures of Huckleberry Finn in 1884. Ernest Hemingway said in the 1930s that "all modern American literature comes from one book by Mark Twain called Huckleberry Finn", and the novels are still hugely popular today, with Huck Finn hitting the headlines earlier this year over an Alabama-based publisher's much-criticised decision to publish a new edition replacing the offensive term "nigger" with the word "slave".
Twain died in 1910 and remains one of America's best-loved authors. His autobiography was finally released last year: Twain had specified that it remain unpublished until a century after his death, so that he might feel free to speak his "whole frank mind" as he would be "dead, and unaware, and indifferent".
Google is clearly in a literary mood at present, with the Twain doodle following a celebration of Polish science fiction author Stanislaw Lem last week. Other authors to have been honoured by the search giant include Antoine de Saint-Exupéry, Agatha Christie, HG Wells and Jorge Luis Borges.
Earn From Your blog And Popular FB page...
ADfocus