Canon set to announce 4K 120fps RAW C500 and Cinema 1D 4K DSLR – specs and price revealed
Wednesday, 11 April, 2012 22:58
[News] Canon Cinema EOS 1D, C100, and C500 Coming Soon?
EOSHD.com
reports that Canon is working on both lower- and higher-end versions of the C300, the C100 and C500. While we're unsure about the C100, new rumors indicate that Canon could be ready to announce the C500 along with the previously rumored Cinema EOS 1D DSLR made specifically for video! And all this could happen before the weekend, when NAB 2012 is set to kick off. Read on for some specs!
Rumored C500 Specs:
– $25,000/$35,000 (depending on the source)
– 4K resolution
– Up to 120fps @ full 4K (10bit @ 120fps, 12bit @ 60fps)
Rumored Cinema EOS 1D Specs:
– $10,000
– Full-frame with Super35mm crop feature
– More megapixels than 1D X
– Cinema lens compatibility
Also rumored are new cine lenses from Canon priced between $12,000 and $20,000: a 15.5-47mm T2.2 and a 30-105mm T2.2.
Stay tuned for updates! This announcement will happen soon!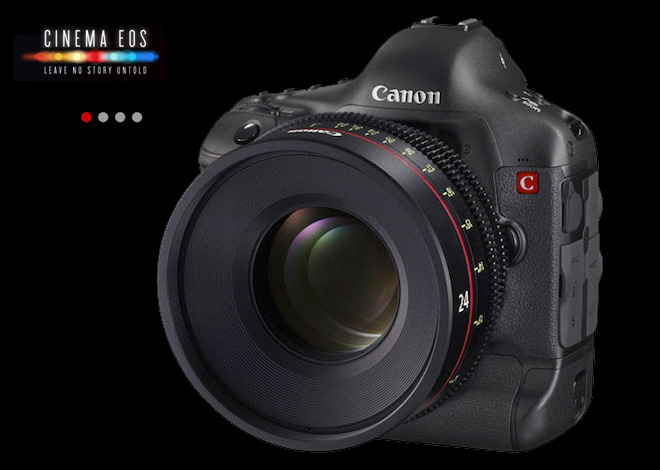 Canon are due to issue a press release ahead of NAB. What my source says about the new cameras is pretty extraordinary even in light of what Sony are doing with the FS700.
Canon will release a C500 for $25,000.
This is designed to be an Epic killer.
It is 4K at 120fps with EOS RAW via 3G HD-SDI. Officially certified raw recording deck solutions are being provided by Blackmagic and AJA.
At 60 fps EOS RAW from the C500 is 12 bit. This drops to a still impressive 10 bit at 120p.
The C500 also pumps out 1080p, 2K and Quad HD.
And now for the 4K DSLR…
Costing $10k. This is full frame and does ALL-I, IPB and MJPEG 4K.
Both the C500 and 4K EOS DSLR have log profiles.
Another feature is that it has a Super 35mm crop mode (like the D800 with DX crop mode) for compatibility with cinema lenses.
There's also going to be 2 new zooms. Lightweight 2kg PL and EF mount cinema lenses. The first is a 15.5-47mm T2.2 and the second a 30-105mm T2.2. These are pricey cinema lenses at the $15,000 mark.
More news to follow.
Expect this to go official on Thursday afternoon GMT and in the morning in the US.
Canon, NAB 2012, 4K EOS DSLR, Canon Cinema EOS 1D, C100, C500