Top 10 alternative Los Angeles hotels
As Hollywood's elite check in to Los Angeles' most glamorous hotels for the Oscars this weekend, we pick 10 brilliant places to stay beyond the celebrity haunts, from family-run guesthouses to boutique motels and quirky B&Bs
Anna Stothard
guardian.co.uk, Tuesday 21 February 2012 13.36 GMT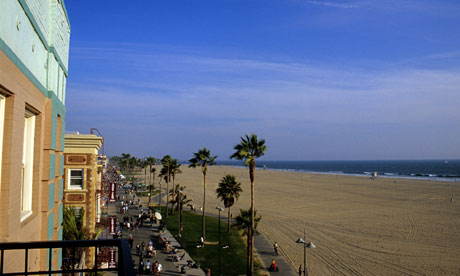 The Cadillac
Built in 1914, the looming pink and turquoise art deco Cadillac Hotel is on the border of Venice and Santa Monica, with rooms looking out on Santa Monica bay and along the coastline to Malibu. It was once the summer residence of Charlie Chaplin and you'll find a host of eccentrics on your doorstep. From bodybuilders to fire-eaters, you'll never see anything boring from your window at The Cadillac.
The Hollywood Pensione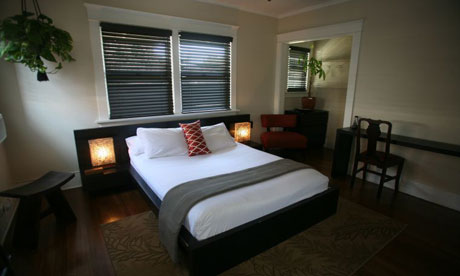 This family-run, three-room guest house in East Hollywood is achingly chic, while retaining a homely vibe. Hidden in a 1915 Craftsman house on the edge of Franklin Village, it has sleek and unpretentious rooms, each with a private bath. There's also a common lounge with a balcony, and access to a fully-equipped guest kitchen.
Farmer's Daughter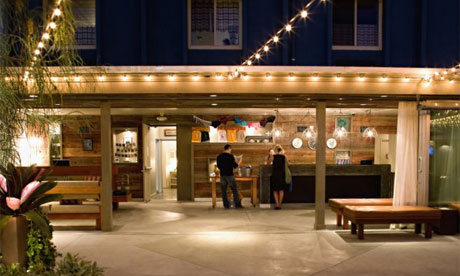 This has recently been renovated from a very basic roadside motel into a surreal tongue-in-cheek hotel that boasts all the cinematic charm of a seedy motel, with all the comfort of a beautifully designed boutique hotel.
"You have to keep to your roots," the manager winked at me one morning as he explained that the original Farmer's Daughter motel was a notorious haunt for desperate starlets new to the city, hoping to bump into producers from CBS Studios, just opposite. The hotel still harks back to kinkier days, while also offering free Wi-Fi and 24-hour secured valet parking. There are brightly coloured rocking chairs in the rooms, gingham curtains, denim bedspreads and if you're in the mood for love there's a "No-Tell Room" where you'll find mirrors on the ceiling and a fully stocked bar, as well as a mural of a wheat field to inspire a roll around in the hay.
Hotel Figueroa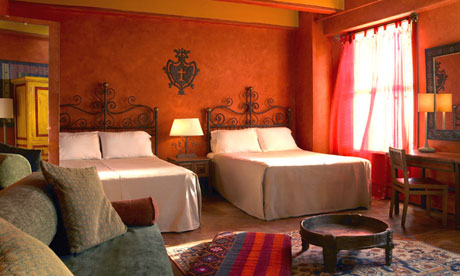 Located opposite the Staples Center in the urban heart of Downtown Los Angeles, stepping into the lobby of Hotel Figueroa is like stumbling on a Moroccan Riad. With high, mural-covered ceilings hung with amber lamps, and giant palm trees lolling next to faux-marble pillars, it's an unexpected oasis in the bustling concrete jungle of downtown.
The Magic Castle Hotel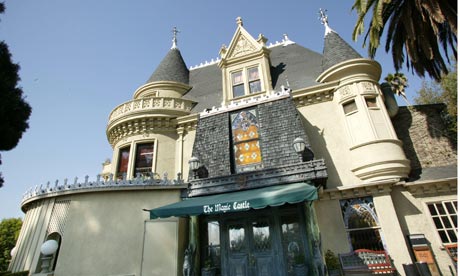 Highland Gardens Hotel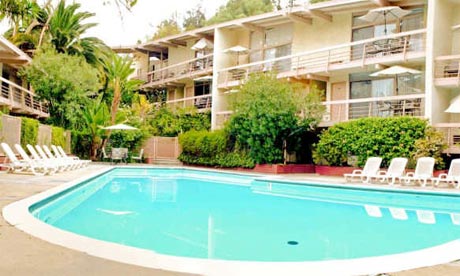 The monochrome lobby, flooded with natural light and decorated with pristine white sofas, might as well be a different hotel from the old-fashioned guest rooms with their somewhat shiny bedspreads and patterned curtains, but it's still a reasonably priced and convenient place to stay in Los Angeles. Located near all the tourist sites of Hollywood Boulevard, this is slightly more grown up and slicker than the Magic Castle Hotel. There's a pool surrounded by a palm trees, and some of the rooms have private kitchen facilities. Try to get a courtyard-facing room.
Garden Cottage B&B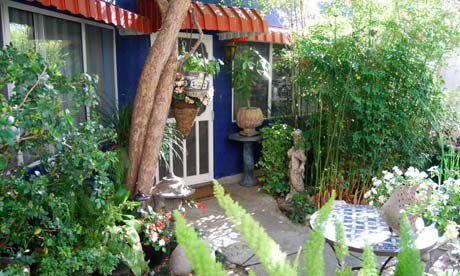 At the base of the Hollywood Hills, on Laurel Canyon Boulevard, is the quaint Garden Cottage B&B, where the proprietors, Ahuva and Bob, are known for providing superb organic breakfasts in their garden and great local knowledge.
Topanga Canyon Inn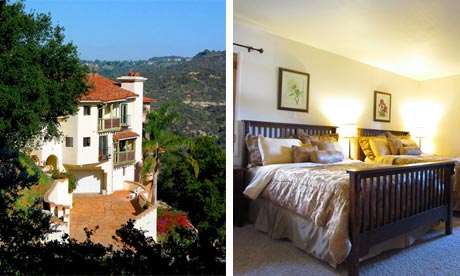 This isn't the place to stay if you want to spend your evenings dancing in West Hollywood with Paris Hilton or getting drunk with the girls from America's Next Top Model, but it is if you want to experience the grandeur of the Californian countryside. Tucked among the caves, cliffs and canyons of the Santa Monica Mountains, Topanga Canyon boasts nearly 40 miles of trails and views of the Pacific Ocean, Los Angeles and the San Fernando Valley.
Cinema Suites Bed and Breakfast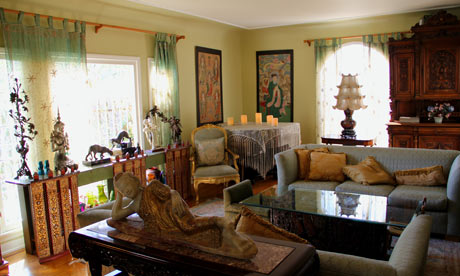 Loz Feliz Lodge
The Los Feliz Lodge encompasses four separate Spanish-style 1920s bungalows, each with colorful living rooms and kitchens. It's almost like having your own little flat in the heart of Los Angeles, but with less hassle, and with people to clean up after you.