Bobcats sink to 15th straight defeat
Philadelphia 76ers condemn Michael Jordan's Charlotte Bobcats to 15th successive loss; Miami Heat finally beat Milwaukee Bucks
Associated Press
guardian.co.uk, Tuesday 14 February 2012 16.16 GMT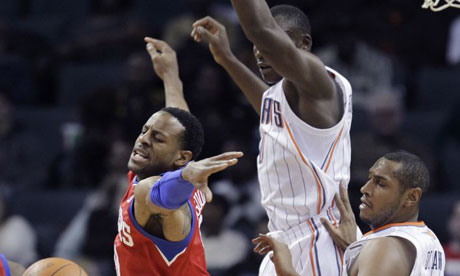 76ers 98, BOBCATS 89
Lou Williams scored 23 points off the bench as the Philadelphia 76ers built an early lead and held on to send Charlotte Bobcats to their 15th straight defeat, 98-89 Monday.
Thaddeus Young added 20 points on 6 of 9 shooting, and Jrue Holiday chipped in with 19 points for the 76ers (20-9).
Williams was averaging 19 points over the previous four games. He stayed hot Monday night, making several big shots including a 3-pointer with 6:11 remaining after the Bobcats had pulled within 71-69.
Corey Maggette scored a season-high 22 points for Michael Jordan's team, which fell to 3-25 on the season.
HEAT 114, BUCKS 96
At Milwaukee, LeBron James scored 35 points as Miami used a third-quarter surge to finally beat Milwaukee.
Dwyane Wade scored 22 and Mario Chalmers added 13 for the Heat, who were 0-2 against the Bucks coming into Monday night's game.
James scored 16 of his points in the third quarter as the Heat outscored the Bucks 35-24 to take control of the game.
Carlos Delfino scored 24 for the Bucks, who were coming off a loss to Orlando on Saturday night.
MAGIC 102, TIMBERWOLVES 89
At Orlando, Florida, Jason Richardson scored 17 points, and Jameer Nelson and Hedo Turkoglu each added 14 as Orlando used a big second half to beat Minnesota.
Richardson, coming off a season-high 31 points, was strong early against Minnesota but sat out the fourth quarter.
The Magic didn't need him, though, hitting 12 of 30 3-pointers for the game and with all five starters reaching double figures. Orlando has won two of its last three games and earned its seventh straight victory over the Timberwolves.
Kevin Love led Minnesota with 19 points and 15 rebounds, but the Timberwolves lost their fourth straight game.
HORNETS 86, JAZZ 80
At New Orleans, Chris Kaman scored a season-high 27 points and grabbed 13 rebounds as New Orleans snapped an eight-game losing streak with a victory over Utah.
Marco Belinelli and Gustavo Ayon each added 13 points for New Orleans, which led by as many as 20 in the third quarter before holding on for only its third victory in 26 games.
Al Jefferson had 14 points and 12 rebounds for Utah, which was playing the second of back-to-back games after winning in Memphis on Sunday night.
MAVERICKS 96, CLIPPERS 92
At Dallas, Dirk Nowitzki scored 22 points, 11 in the final 6-plus minutes, and Shawn Marion added 16 as Dallas held on to beat Los Angeles.
Jason Terry, Vince Carter and Brendan Haywood all contributed 10 points for the Mavs, who've won 10 in a row at home against the Clippers and extended their overall winning streak to four games.
Caron Butler of the Clippers scored a season-high 23 points against his former team, and Blake Griffin added 20 points. Chris Paul had 16 points and nine assists for the Clippers, but Griffin's problems from the foul line cost his team as he missed seven of nine free throws.
WARRIORS 102, SUNS 96
At Oakland, California, David Lee had 28 points and 12 rebounds, and Monta Ellis scored 18 points as Golden State earned its first three-game winning streak under rookie coach Mark Jackson with a victory over Phoenix.
Rookie Klay Thompson added 10 points and fellow reserve Ekpe Udoh had nine points, including a layup with 35.9 seconds remaining that extended Golden State's lead to five and capped a comeback from 12 points down in the second half.
Marcin Gortat had 25 points and 12 rebounds, and Steve Nash handed out 14 assists for Phoenix, playing the first of three games in three nights.